If you're like me, in any normal year, you are drawn to classic, tasteful neutrals — think black, navy, slate — and traditional embossing on your stationery. These convey a subtle, luxurious look. Colorful stationery was nice, but didn't feel necessary.
But this is no normal year. This is our second COVID19 winter. During the first winter, we engaged in sense-tickling activities: we baked fragrant bread and yummy cookies. We sang out our windows with our neighbors and clapped for front-line workers on our front porches. This year, we are craving color: Deep, mood-boosting jewel tones. Bright, almost neon-like hues. And they are everywhere: on our clothes, in our hair, on our beds and chairs.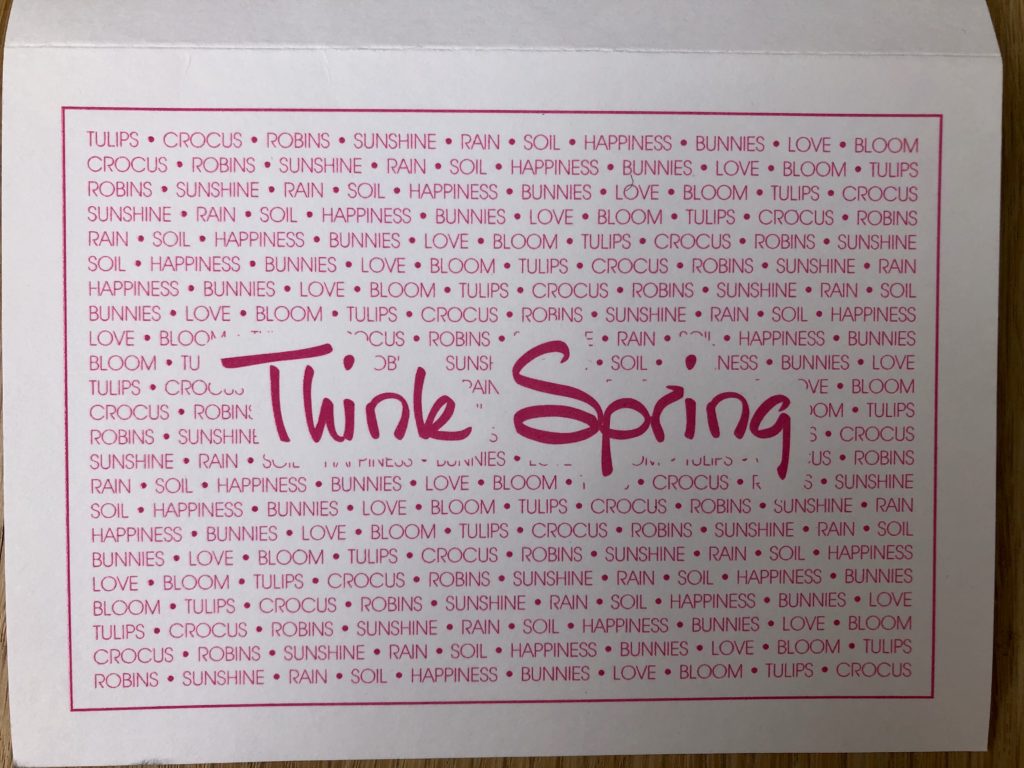 People are calling these saturated hues "dopamine" colors — named after the pleasure chemical that's released in our brains. So let's look at some ways to bring in color to our stationery for spring 2022.
Choose Raised-Ink Cards or Notes
If you want to add bold color to your stationery, start with EG's raised-ink stationery, which uses thermography, a process of printing that achieves deep colors. Right now, bubble gum pink is taking over fashion runways — our "Fuchsia" color is a perfect match. Emerald green is another up-and-coming choice, and our "Emerald" evokes the bright hills of Ireland. Pantone recently announced a gorgeous purple color for their "2022 Color of the Year" called "Very Peri," and our "Purple" color is almost a dead ringer for it. Finally, turquoise blue is a perennially happy-calm color, and our "Ocean" will have you imagining your toes in the sand in moments.

Add Border & Lining to Embossed Stationery
If you love embossing and don't want to give it up, don't worry, you can have it both ways. Add a border and envelope lining to add pizzazz to your embossed stationery. Select a "Fuchsia," "Orange" or "Red" border to frame your name with bold color. Choose a complementary or contrasting envelope lining such as "Emerald," "Fuchsia," "Purple" or "Red."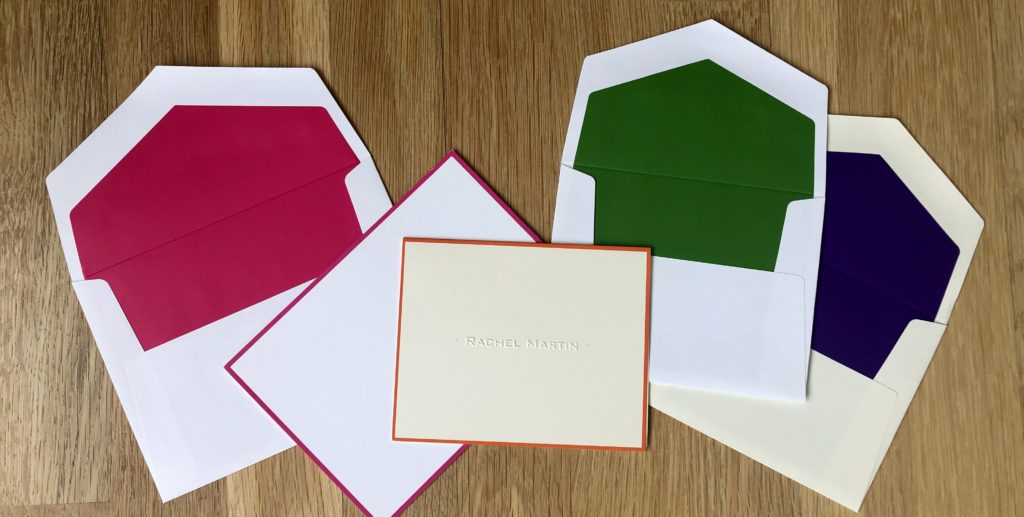 Add Contrasting Envelope Lining
Mixing and matching bright hues offers an energizing vibe for your raised-ink stationery. If you choose "Ocean" as your ink color, try "Purple" or "Red" for the envelope lining. "Emerald" ink would look fabulous with "Purple" or "Fuchsia" as the lining.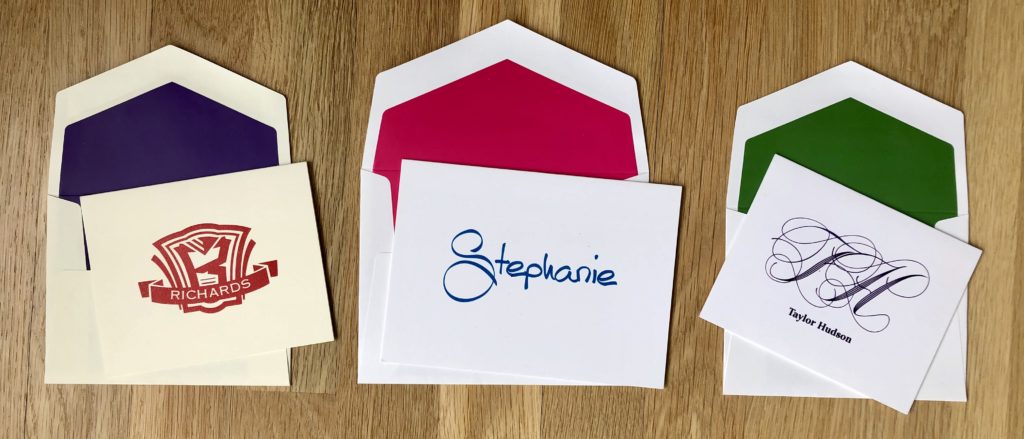 Try California Framed Stationery
EG offers colorful papers in two of our products: "California Framed" folded notes and correspondence cards. "Citrus" and "Red Pepper" are cheerful choices that will immediately brighten your stationery wardrobe. Select "Purple" envelope linings for the "Citrus" stationery (it's a wonderful acid-green) or the "Red Pepper" stationery for an energizing combination.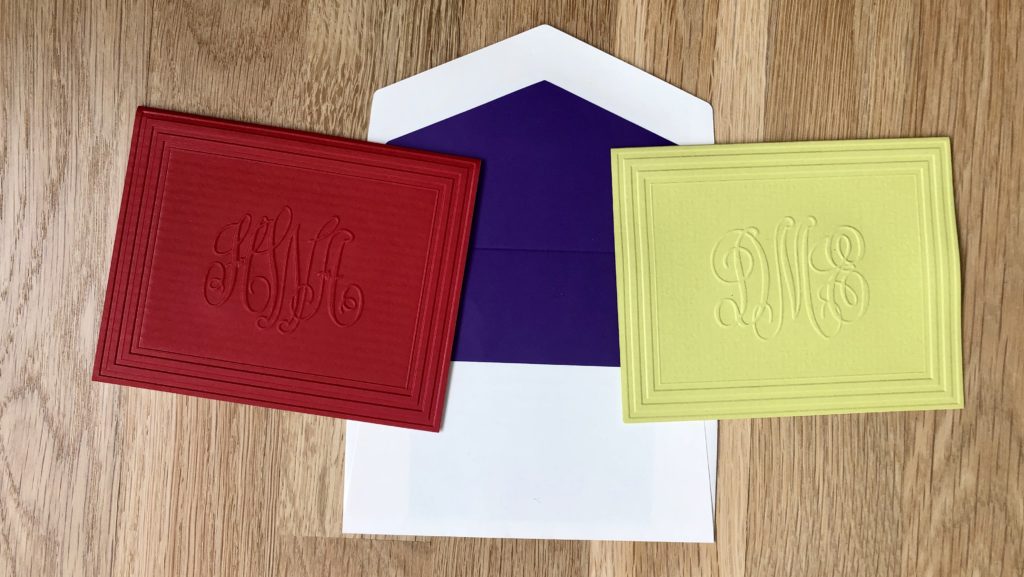 Other Colorful Stationery Options
Our Carnival line of notepads and memos offers a burst of neon color with every page. Order "Blue," "Pink," "Orange," "Green," or a "Tricolor" mix. When choosing colorful raised-ink hues, select the "White"paper option (as opposed to "Ivory" paper) to allow the colors to "pop" off the paper.

If you need more help choosing stationery, visit your favorite local Embossed Graphics retailer, who can walk you through the choices. Use our store locator. Please buy local to keep people employed and pay local taxes. Your purchase of Embossed Graphics stationery not only enriches your lifestyle, it enriches your community.