We're so busy these days…trying to fit in all the fun outdoor things during this beautiful season, as well as catching up on all our social obligations and gatherings after 18 months of pandemic pause. Here's an essential guide to choosing the best stationery for your style, so you can concentrate on the message and always feel put-together.
I don't know about you, but I have more than one party that was postponed til this summer. With our schedules full once again, we don't have a lot of time for other things. Letter-writing might fall down the list, but it's still a must-do, especially for thank you notes, sympathy cards, and any long-running correspondence you have with cherished letter-writing friends. Make your letter-writing minutes count by using the stationery that best fits your task and personality.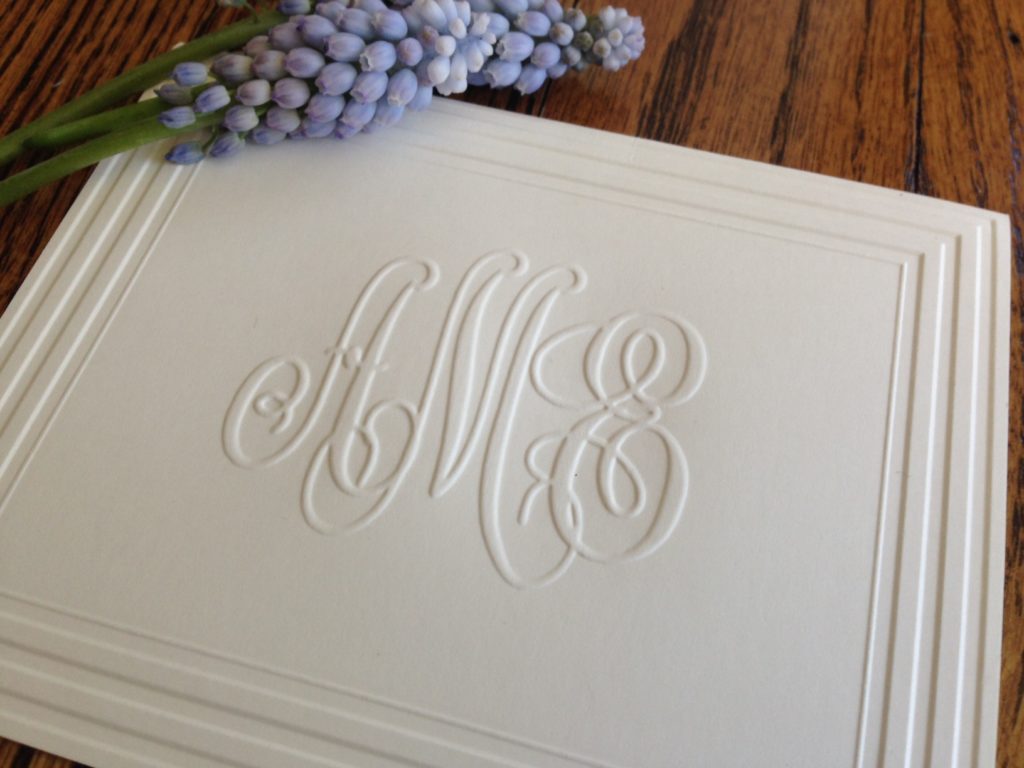 Which stationery is best for thank you notes?
A folded note is the natural place to start. If you don't already own the Classic Frame Monogram Note, this option is a no-brainer. It's a versatile staple with a timeless elegance and 5 monogram choices (and yes, you're probably going to end up wanting it in every monogram style). The embossing is formal-feeling, but not too stuffy– use this stationery to write to prospective employers as well as your nephew.
But don't shy away from raised-ink folded notes, especially if you like to stand out in a crowd. In fact, something like the Colonial Note, which features a lovely design in your choice of raised-ink colors and lettering styles, works for any situation. L60, with its rounded letters, is a particular favorite. And L93 is a timeless serif typeface. Try these in navy or black ink on white paper. Or, for added appeal, try silver or gold ink on white paper.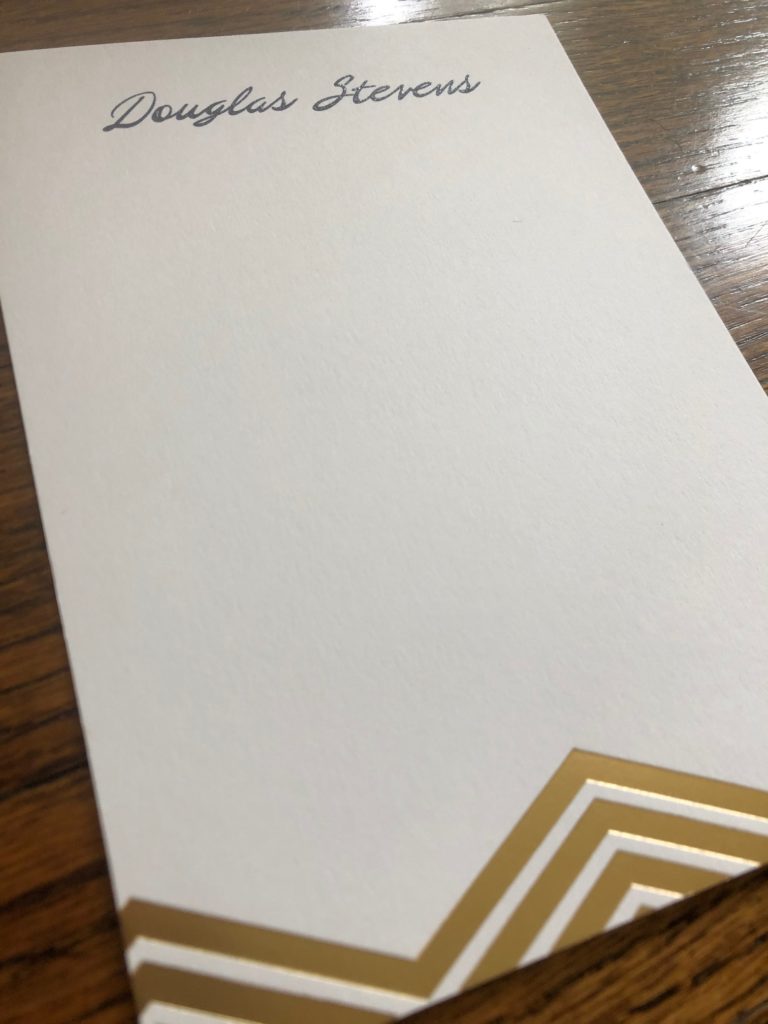 Which stationery has extra room for longer messages?
Have you discovered our letter sheets yet? They are sized just right — large enough to thread into an old-fashioned typewriter, yet small enough to allow for straight lines of penmanship. You might love the surprisingly versatile Somerset Letter Sheet, which has room for four lines of text in your choice of lettering style and ink color. It looks just as good with black ink as it does with a red hand-inserted lining on the envelopes. If you write really long letters, don't forget to order second pages, which you can find here.
Or go for the embossed Henley Monogram Wardrobe, on which you can use the Circle Monogram (which I own, and is lovely). Or try the Diamond Monogram if you want to express a more traditional feel without the curlicues. Being a wardrobe, it also includes folded notes and gift enclosures, as well as all the envelopes.
The Contour Card boasts a more zingy personality, given that it's adorned with gold zigzags. Technically, it's a correspondence card, but it's designed in a way that evokes classic stationery, albeit in a more diminutive form.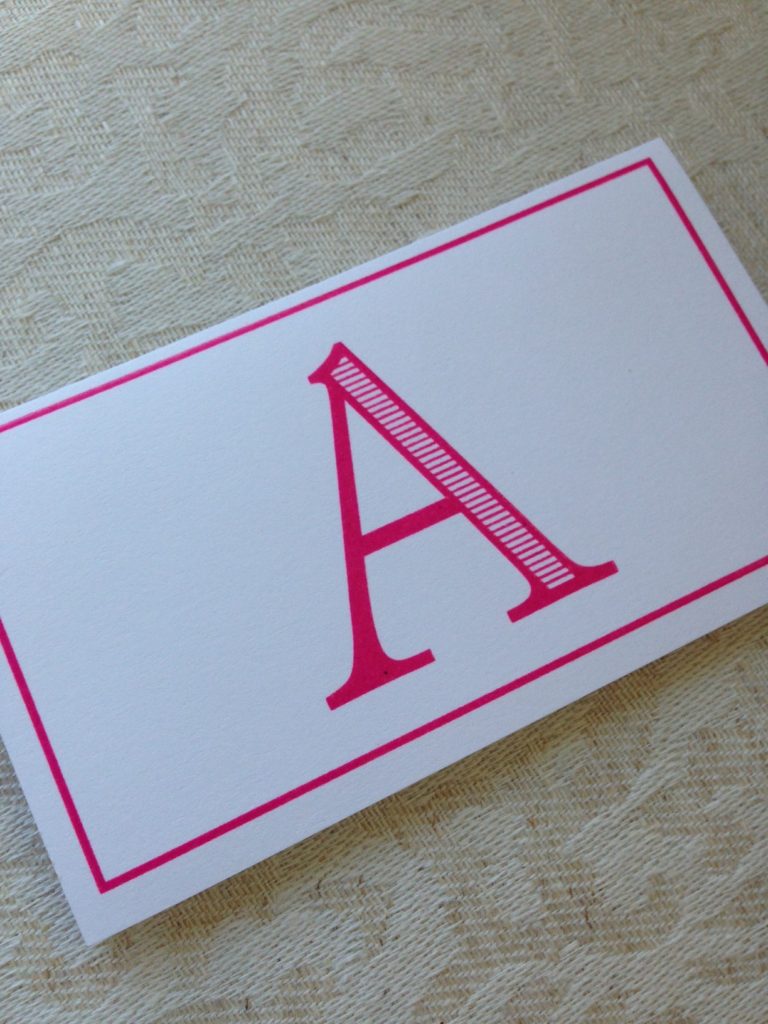 Which stationery is best for gifts?
If you're like me, you may spend a lot of time and thought on a gift, but always forget the greeting card. Never fear, though, because your stationery stash should include papers to use in a pinch…or as your go-to gift-giving notes. The obvious choice here is a pretty gift enclosure card, such as the Lexington Portrait Enclosure in raised ink. It's bold and big and perfect for friends that you love to give big friendly hugs to (if we weren't in a pandemic). Or try the Sequoia Horizontal Enclosure Card, also in raised ink.
If you like a little more room for personal messages, try our correspondence cards. Try the Highland Chesapeake Card, which has pleasing dimensions, in L01, our casual Anthony font. For a more formal vibe, the all-caps L94 serif font is a no-brainer. The Somerset Wardrobe is a fun choice: three different sized cards on beautiful, thick card stock in your choice of lettering style.
When you have the right stationery at your fingertips, you can relax and have fun writing your letters. Let the stationery reflect your personality and task, so that you can attend to the important things. Isn't that what good tools always do?
And remember to buy local! Use our store locator to find and visit your nearest Embossed Graphics retailer. Please buy local to keep people employed and pay local taxes. Your purchase of Embossed Graphics stationery not only enriches your lifestyle, it enriches your community.