Pairing beautifully made stationery with chintsy envelopes is like wearing an elegant dress with flip flops. (Not that any of us are wearing elegant dresses these days! Yoga pants are the work-from-home attire du jour around here.) You want to put your best foot forward with your stationery, so why settle for inferior envelopes? Here at Embossed Graphics, we are experts on the difference between so-so envelopes and excellent ones. Here's the scoop:
Envelope Paper Weight
When your correspondent receives your letter, the envelope is the first thing they'll see. You want the envelope to feel thick and sturdy. One of the biggest clues of inexpensive envelopes is the paper weight. If it's thin and easily bendable, it may be worse for the wear after its mailing journey. An envelope that is sufficiently thick will also prevent dark writing on your stationery from showing through. We craft our envelopes using 110 lb. text-weight paper from Neenah in Wisconsin. It's a nice, sturdy paper that is close to a cardstock weight.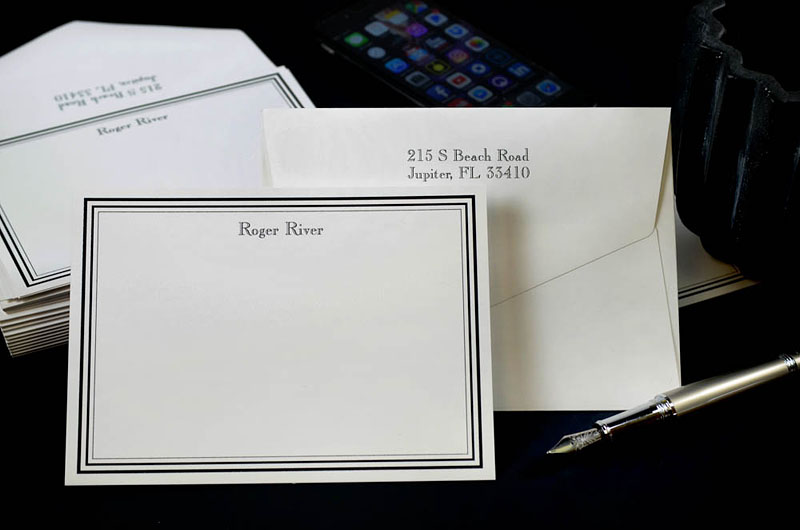 Envelope Color
Another tip-off of quality: the envelope paper matches the stationery paper. If you have a nice, thick piece of ecru stationery tucked into a shiny, plain white envelope, what impression does that give? Here at Embossed Graphics, we make our envelopes out of the same paper as our stationery, so they match in color. If you order 25 white folded notes, you'll get 25 white envelopes made out of the same paper. If you order 25 ivory correspondence cards, you'll get 25 ivory envelopes made out of the same paper.
Envelope Size
Sometimes you'll purchase inferior stationery and notice that there's a lot of extra room inside the envelope after you put your note inside it. That's a tip off for bad or no design. Sometimes the envelope isn't even the same dimensions as the card: there will be more extra room left to right than there is top to bottom. That's shoddy design as well. It's a sure signal that the stationery company purchases their envelopes from a third party. We make all of our envelopes to exactly fit our stationery.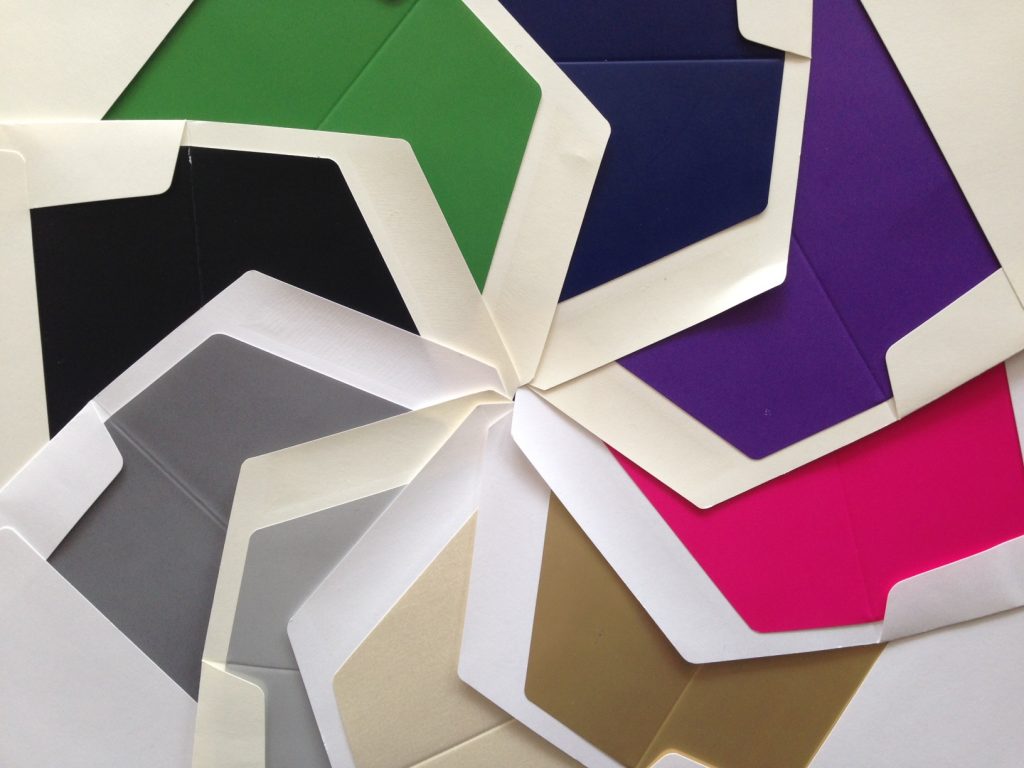 Linings Inside Envelopes
Envelope linings are another way to up your envelope game. Linings are a piece of decorative paper inserted inside the envelope. They lend a little bit of privacy so your message doesn't show through. But they also provide a bit of sizzle or splash when you open the envelope. We insert our luxury paper linings by hand into every envelope.
How do you choose an envelope lining? All of our linings have a bit of shine to them and coordinate with our raised-ink colors. You can choose to match your lining to the ink color, or you can choose a contrasting lining color: fuchsia and black; silver and navy; purple and opal. For embossed stationery, choose a lining color that you love– just as long as you love it, it's perfect!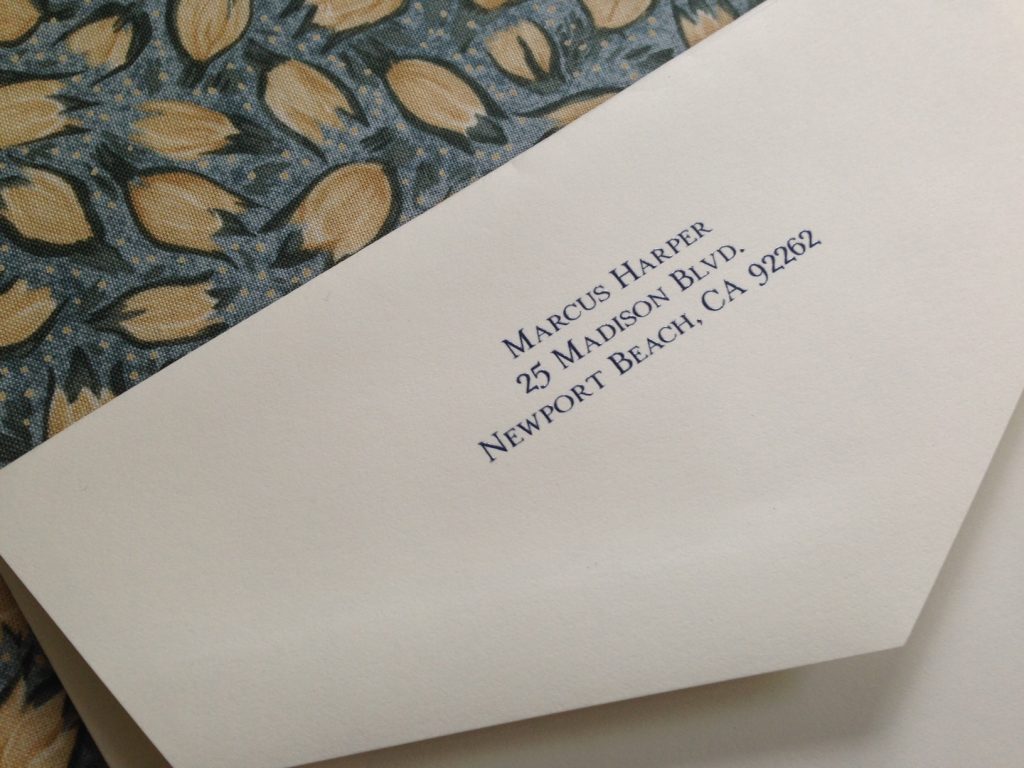 Return Address on Envelopes
To add another finishing touch, add a return address to your envelopes. You won't need to mess with stickers or stamps. We print your return address in the same font and printing process that you choose for your stationery personalization. So if you choose an embossed monogram in our Anthony font, you'll have an embossed return address in the Anthony font.
Closing Words
If you choose your stationery wisely, your envelopes will help your stationery be an impressive reflection of your taste and style. You can't go wrong with any of Embossed Graphics' stationery because we always treat the envelopes as part of the main event, not an afterthought. We include the price of envelopes in the price of our stationery: so with every 25 cards or notes you order, you'll receive 25 matching envelopes in the box. That's why it's important to aim for quality and value you when you purchase stationery.
Want to see it for yourself before you buy? Use this link (https://www.embossedgraphics.com/where-to-buy.php) to find and visit your nearest Embossed Graphics retailer and ask for our SuperEasel. There, you can see and touch our stationery and matching envelopes. And we always want to promote our retailers — those cute, tiny shops or home-based businesses in your community. Please buy local to keep people employed and pay local taxes. Your purchase of Embossed Graphics stationery not only enriches your lifestyle, it enriches your community.