One of the best parts about giving personalized gifts is watching the look on your family and friends' faces when they see their initials or name in a beautiful lettering style. They are often so delighted that it seems like they'll never stop gushing. A few months later, they may even mention the gift again. And luckily, Embossed Graphics offers so many designs and so many unique lettering styles, you have unlimited choices. But what happens when your BFF needs a personalized memo square refill? Or you've personally used all 10 fabulous monograms offered on the Delevan Monogram Mini List? No doubt you could choose another exclusive EG design. Or….you can try our Custom Notepads! They are special because they show off special images–whether that's a cherished photo, your nephew's drawing, your daughter's calligraphy…you get the idea. There are endless ways to create the best. gift. ever.
Dependable, high quality notepads
First, a little background. Embossed Graphics has always boasted a beautiful selection of attractive notepads in sturdy paper. Recently, we developed the capability to do rich, four-color printing. On my most recent visit to EG, I got to see some fabulous designs submitted by EG customers. The colors are truly outstanding, and the printing is crisp and perfect. You dream it, EG can print it on a notepad. Simply send in your original artwork, logo or photograph, and you'll have your custom notepad within a week or so.
Choices, choices, choices
EG offers a wide array of custom notepads in all sizes. Here are some of my favorites.
Custom Image Desk Slab Perfect for: a playroom or art space. With a large image area (5.12″ x 1″), this slab is perfect to show off a prized snippet of a children's artwork. Personalize it with the child's or teen's name, and it's an instant stocking stuffer or birthday present.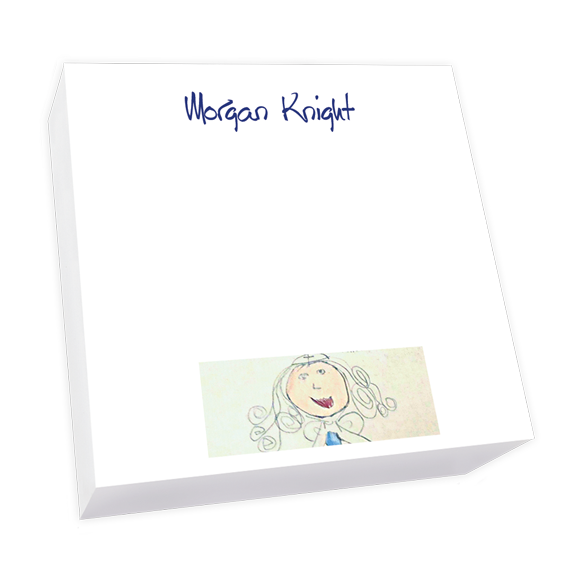 Custom Image Memo Square Perfect for a work-from-home, small desk worker. The days are getting shorter, leaves are falling, there's a crispness in the air… autumn is upon us! And that means that we're all finding ways to prep for the long, dark days ahead. I'm stocking my desk with comfort pieces…from smooth river stones that help me find peace to warm slippers for my feet to our latest family photo. I'm also adding this memo square to my small desk area.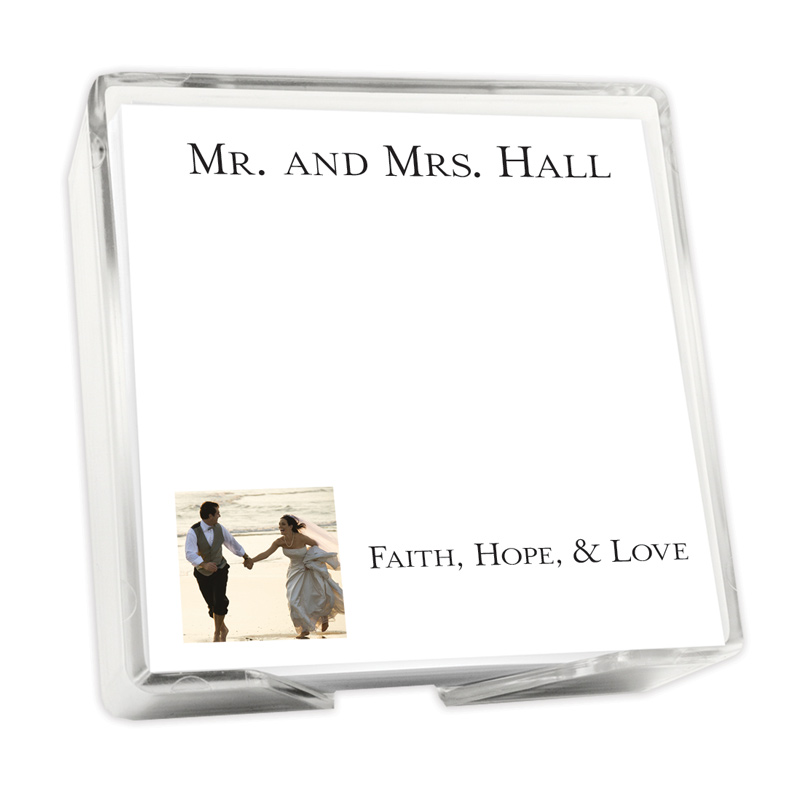 Family Photo List Perfect for: New parents; grandparents' nightstand. With a dedicated space for a 2.5″ x 2.5″ image, this cute personalized product is just the right size to tuck on a night stand for midnight jottings and first-thing-in-the-morning revelations.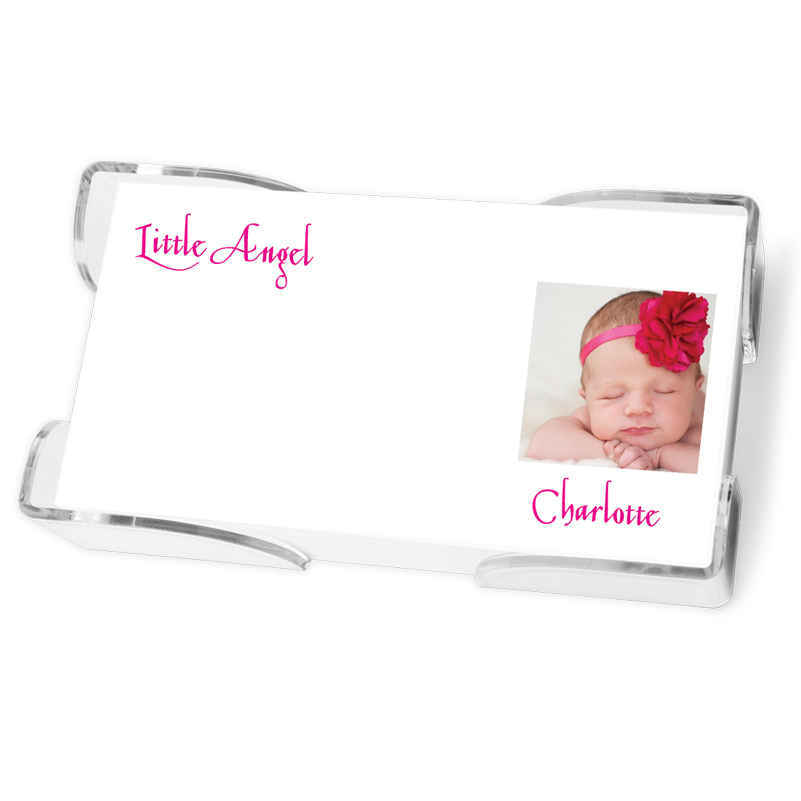 Your Logo 7 Tablet Set Perfect for: Hard-working desk jockeys; busy parents with a large kitchen desk. Offering a place for your custom artwork that's 4″ wide and 1.25″ high, this collection offers flexibility. It includes one Large Tablet (5″ x 8″), two Medium Tablets (4″ x 6″), two Small Tablets (3.25″ x 6″) and two Pocket Tablets (3.25″ x 5″). With a larger footprint than some of EG's other products, it's perfect for a large desk or credenza.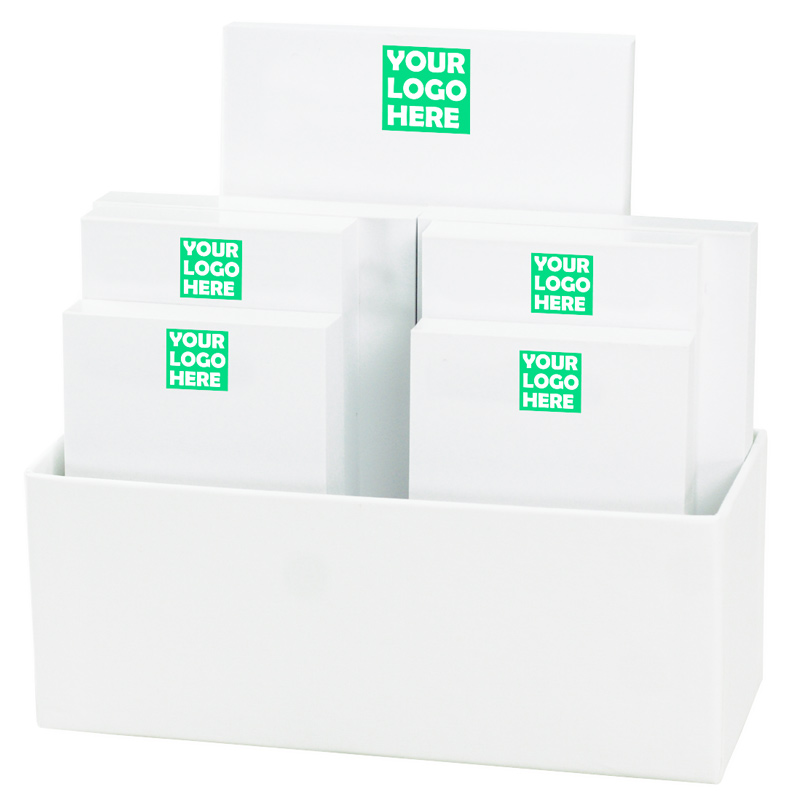 Want to see the whole Custom Notepad collection? Check them out here. Please buy local! Use our store locator to find and visit your nearest Embossed Graphics retailer. Shopping small keeps people employed and contributes to local taxes. Your purchase of Embossed Graphics stationery not only enriches your lifestyle, it enriches your community.