Embossed Graphics stationery afficianados love giving our personalized stationery as gifts. It's beautifully crafted, eminently useful, and it always makes a splash with friends and family. Giving stationery to a stationery newbie is easy. But how about gift ideas for stationery lovers? It could be a daunting task — don't they have everything already? Never fear! Here are some gorgeous, new Embossed Graphics designs that will impress any stationery lover. Ranging from clean-lined simplicty to unabashedly exuberant, these designs are new and "now."
Five New Stationery Designs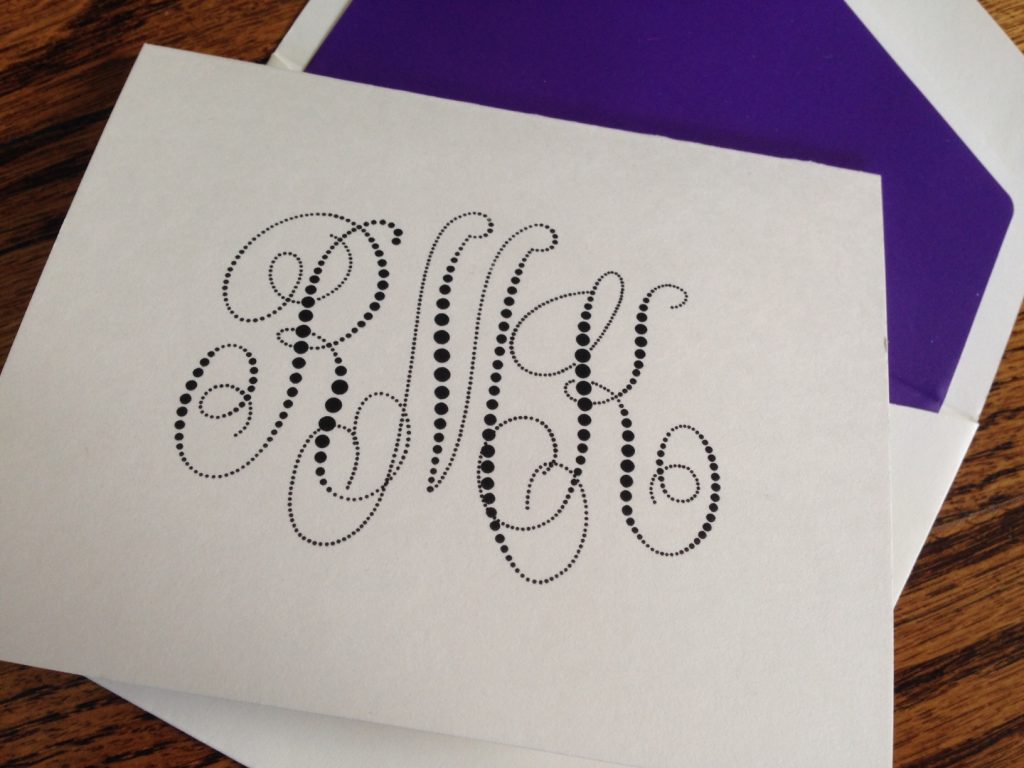 Pearl String Monogram Note: Featuring our Classic Monogram, but in a larger, polka-dotted style, this folded note offers a modern spin on a traditional design. Stationery lovers may already have lots of papers with navy or black ink. For a more feminine touch, try this one in silver, red or fuschia on white paper.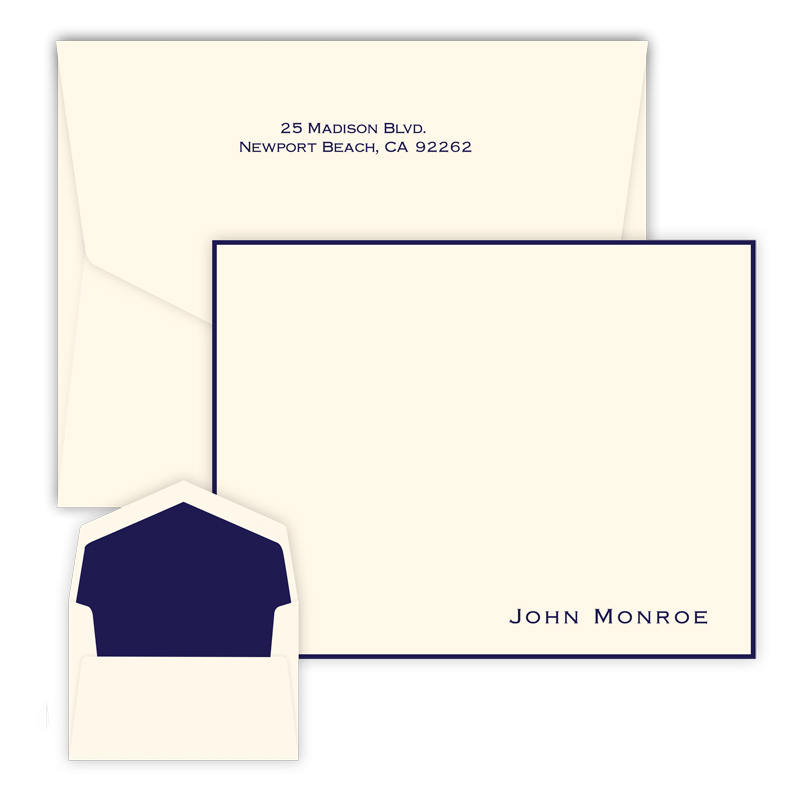 Torreon Card: Clean-lined and modern, this correspondence card is an instant classic. Featuring precise raised-ink printing on the personalization, which is offset on the bottom right quadrant, this card strikes a professional, yet uncoventional note.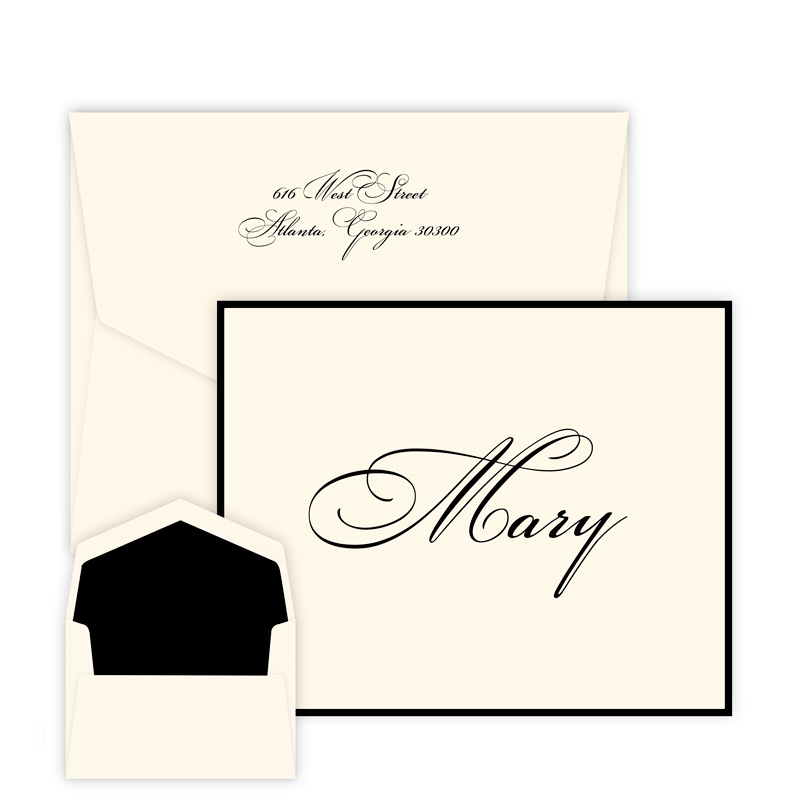 Catarina Note: Nothing's more exciting to a personalized stationery lover than an exclusive, new lettering style…and this one's a beauty! Featuring a lovely script font with a dramatic capital letter style embellished with elegant flourishes, this stationery is boldly romantic. Classic black or navy on white paper conveys a charming traditional flavor. Add an optional matte ink border color to frame the name.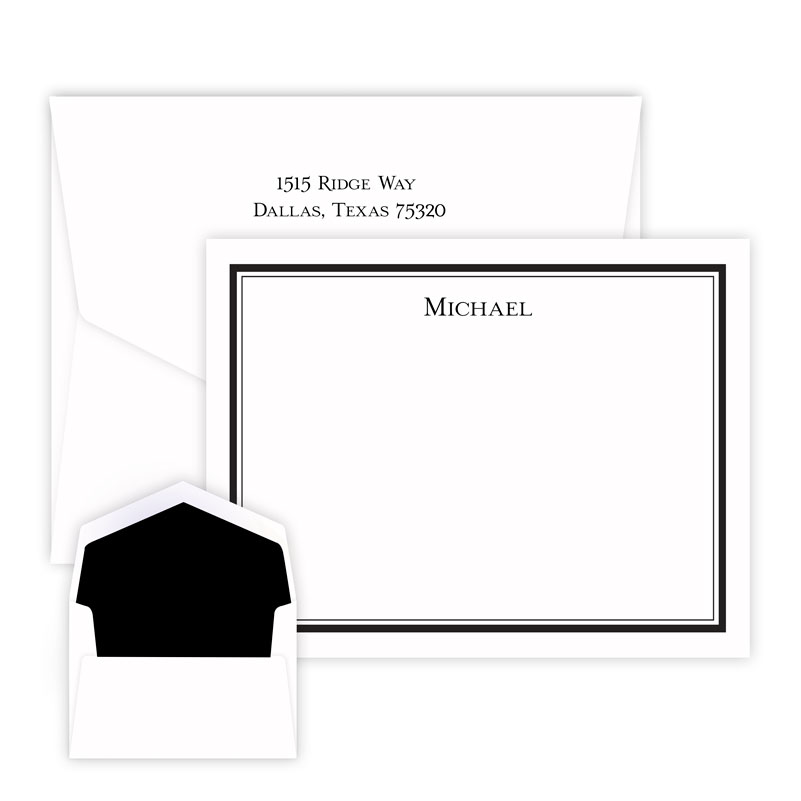 Santa Cruz Card. This flat card is smart, and offers plenty of personality. A bold, two-line border, one thick and one thin, frames the personalization beautifully. The choice of 10 lettering styles and 11 raised-ink colors offers lots of possibilities. It's an instant classic in black or navy. But try it in silver ink on white paper or gold ink on ivory paper for a glitzy spin.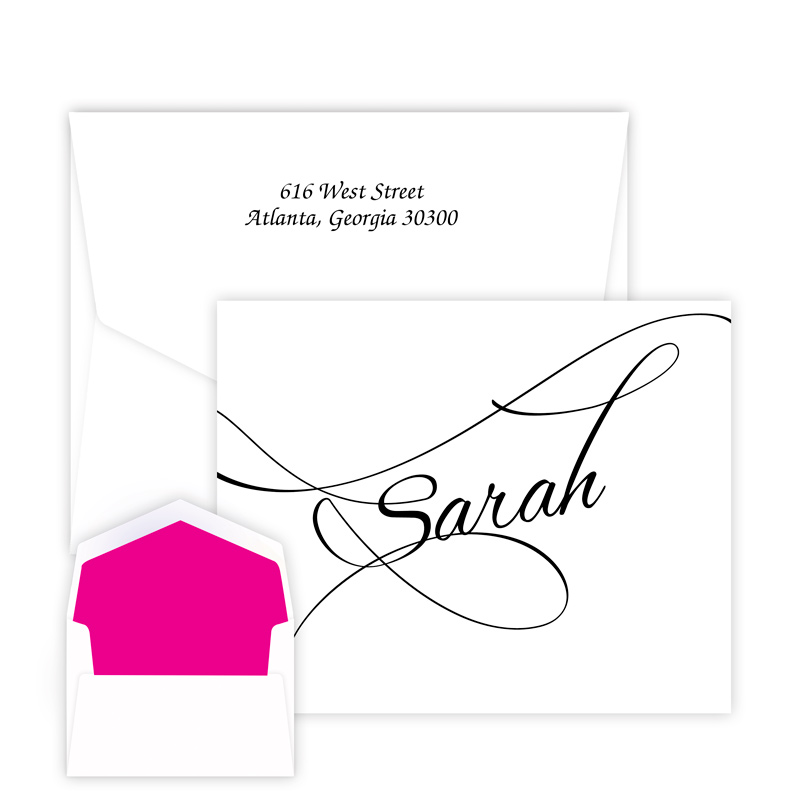 Montevideo Note. This new raised-ink folded note offers sophistication and joie de vivre. Featuring two new, script lettering styles to choose from, the fonts include flourishes and curlicues galore. Most of our stationery carefully guards the edges of the page, but this splashy design jauntily pervades the entire face of the stationery, and can even dip off the margins.
Gift Ideas That Go the Distance
Stationery afficiandos will love these beautiful new designs. And they'll love the presentation too. We wrap our stationery in pretty tissue paper, nestle it inside a gorgeous gift box and affix it with a special seal. Just hand over the box, and watch their deligh!
Other New Designs to Try:
Luna Card
Hawthorn Card
Classic Frame Monogram Note (Raised Ink)
Radiant Note
Magnolia Note