Ah June… the time for gentle summer breezes, sunny days, and young (or young-at-heart) lovers just starting their lives together. You guessed it! It's wedding season, and it's time to think about gifts for newlyweds. There aren't too many rules on wedding gift etiquette, but here are some helpful guidelines.
Sign the gift card or enclosure. This may be obvious, but when writing a message to accompany your gift — whether object or money — be sure to make it clear who the gift is from. If it's a large wedding, consider including your last name on the card or gift enclosure. If you are attaching the card to a gift, be sure to securely affix it. The newlyweds will be stressed to discover a gift with no card!
Send the gift ahead of time. Whenever possible, send your gift ahead to the bride's home in the weeks or days before the event. Doing so cuts down on the amount of work the bridal party must do at the end of the wedding or reception. It also decreases the chances your gift will get misplaced. This is especially important for homemade or irreplaceable gifts. And if you are sending a card with money, remember that you can't send gift enclosures through the U.S. Postal Service, which has minimum requirements for envelope sizes.
Look for the gift table. Often at wedding receptions there will be a table for the gifts. It's best to drop off your gift on the table, rather than hand it to the bride and groom in the reception line or during the event. As mentioned above, be sure to firmly attach a note card or gift enclosure.
Look for an envelope box. If you are bringing an envelope with money to the wedding or reception, look for a box near the entry way or the gift table. Sometimes a member of the bridal party may hold a bag for cards in the reception line. You can also hand the card to the bride or groom during the reception line, but be aware of logistics, and if they already look like they are fumbling with too many cards, hold onto it for later.
No apologies necessary. Etiquette allows you several weeks to send a wedding gift. There's no need to mention that you didn't bring a gift to a wedding reception. Just be sure to give yourself a deadline and stick to it!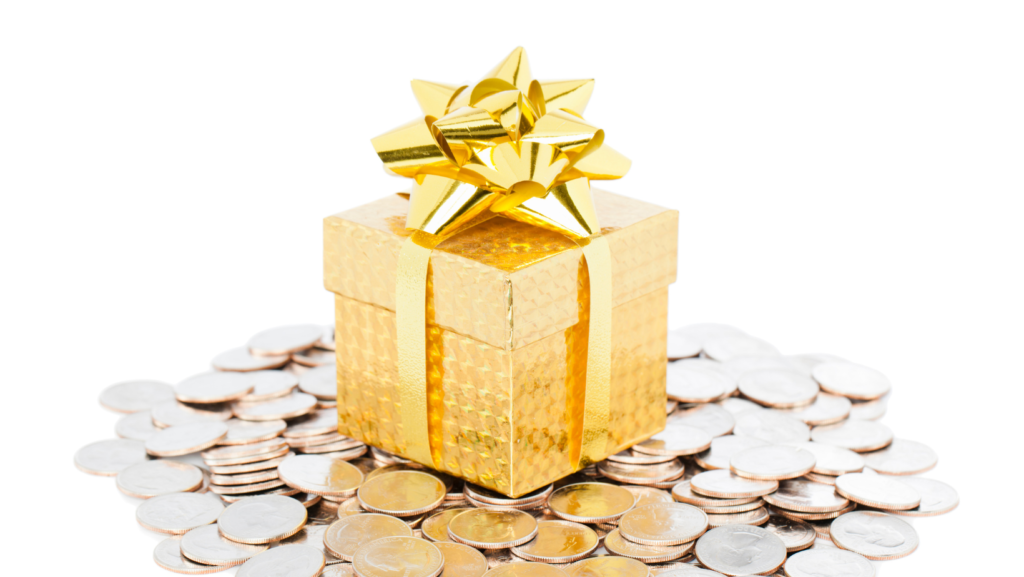 What's the correct wedding gift?
Choose the gift amount. A lot of people worry about how much their gift is worth. What makes a gift "correct" depends on a lot of variables — the bride's and groom's family traditions and your budget are probably the most important. Etiquette dictates that your presence at the wedding is the most important gift of all. This isn't a financial transaction, so even if the wedding is very fancy/expensive, you are not obligated to give the bride and groom an equally expensive gift.
Consider the registry. If the bride and groom have a gift registry at a store, it's logical to choose something off of that. But if you want to personalize the gift, you can choose something from the gift registry — such as a blender — and then write out a few recipe cards for your favorite smoothies, add a set of monogrammed glasses, or tuck in some personalized napkins.
Money as a gift. Giving money? Think about the best way to do so. If you are mailing the money, a check is safest. If you are attending a reception, cash might be okay. Just be sure the card lands inside a box or in the hands of someone who will safely store it.
How much? Some guests consider the cost of the meal and multiply it by the number of people in their family or group. If you are a family of four invited to the reception, and the going rate for a plate is $75 at this venue, multiply $75 by 4 people. However, doing it this way is not obligatory, and if that type of money is out of your budget, give what you can. The bride and groom should consider the effort and time you gave in attending their event as the main part of your gift. In fact, for destination weddings, or for out of town guests, the cost of travel and accommodations can add up! All that's required is a nice card and message, along with a small gift from the heart.
Looking for gift enclosures and personalized wedding gifts? Please buy local! Use our store locator to find and visit your nearest Embossed Graphics retailer. Please buy local to keep people employed and pay local taxes. Your purchase of Embossed Graphics stationery not only enriches your lifestyle, it enriches your community.