With most social engagements put on hold until the pandemic is over, people are rearranging their home offices, their outdoor spaces and their basement play spaces. Here's another thing you can transform with much less effort: give yourselves some luxury stationery.
I don't know about you, but I haven't gotten dressed up for well over a year! Recently, I attended a virtual launch party for a film festival, and I put on makeup, did my hair and put on a cute top. I even put on my best jeans, even though my legs wouldn't be on camera. I hardly recognized myself…but it felt terrific.
Personalized stationery is a reflection of you. It's an outward manifestation of your taste and an extension of your personality. And when you send a formal note– such as for a wedding, funeral, or job acceptance letter — you want your stationery to look its best. Here are some easy ways — some free, some that cost a bit extra — to add a bit of luxury to your stationery.
Select Your Ink Color
One of the easiest and least expensive ways to make your stationery have a more formal feel is to use gold, silver, slate, or black raised ink for the personalization. Our Classic Monogram Note in gold ink on white paper…tres chic! Or these two folded notes below, featuring black raised ink and gold raised ink.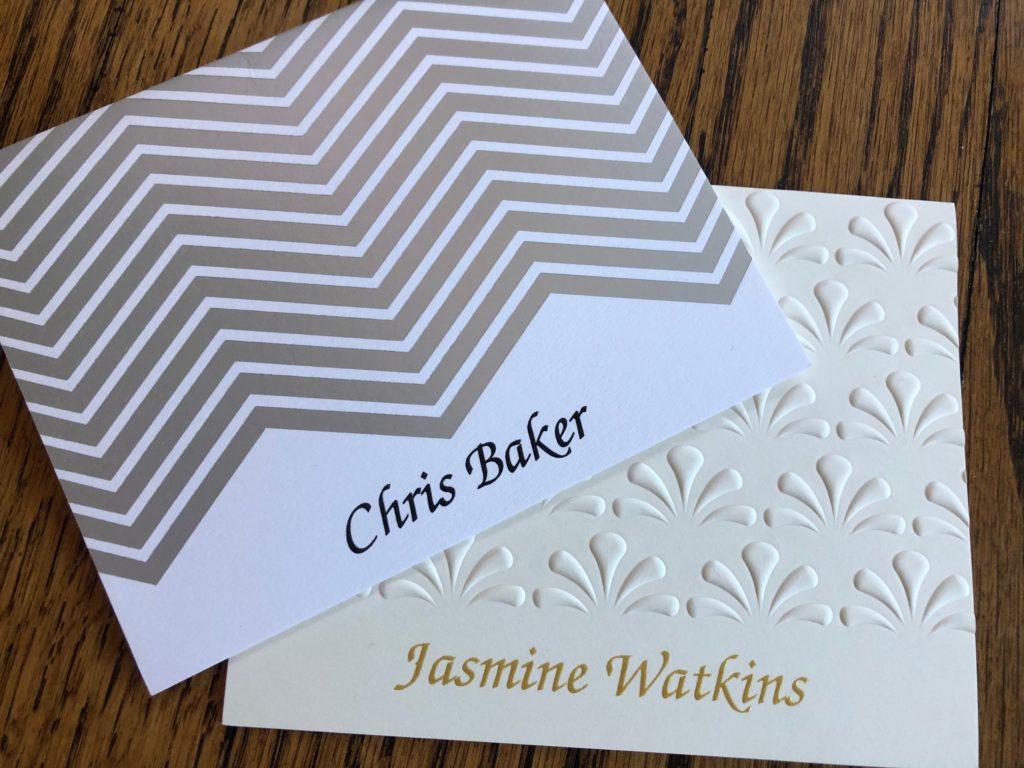 Choose Embossing
Our embossed stationery costs a bit more than our raised-ink stationery, but there's a reason for that. It's an old art form that takes skill and precision. EG's fully embossed designs on ivory paper have a traditional, timeless feel. They are appropriate for any occasion.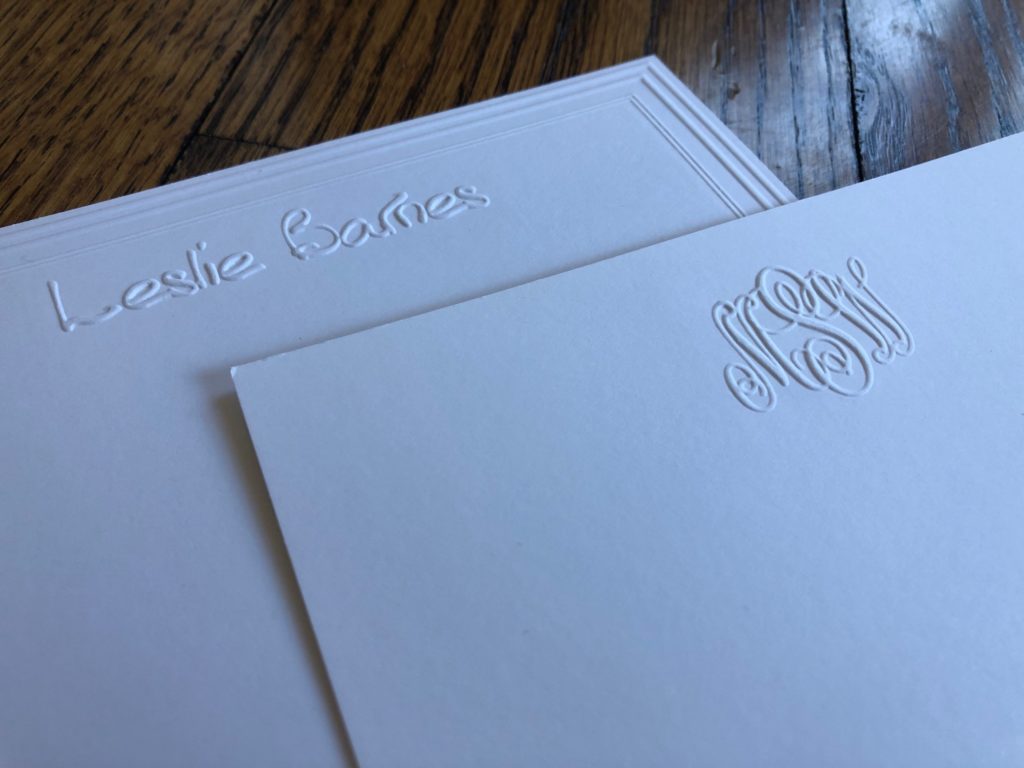 Add a Colored Border
Another low-cost way to dress up your stationery is to opt for a black or red border.
Highlight it: The border color is the only color on the stationery: a white embossed correspondence card with a black border is stunning.
Match it: Or it might match: a monogram in red raised-ink with a red border on a white folded note really turns heads.
Contrast it: Or the border color might contrast with the ink color: Your name in silver or gold raised ink, with a black border on white paper could be stunning.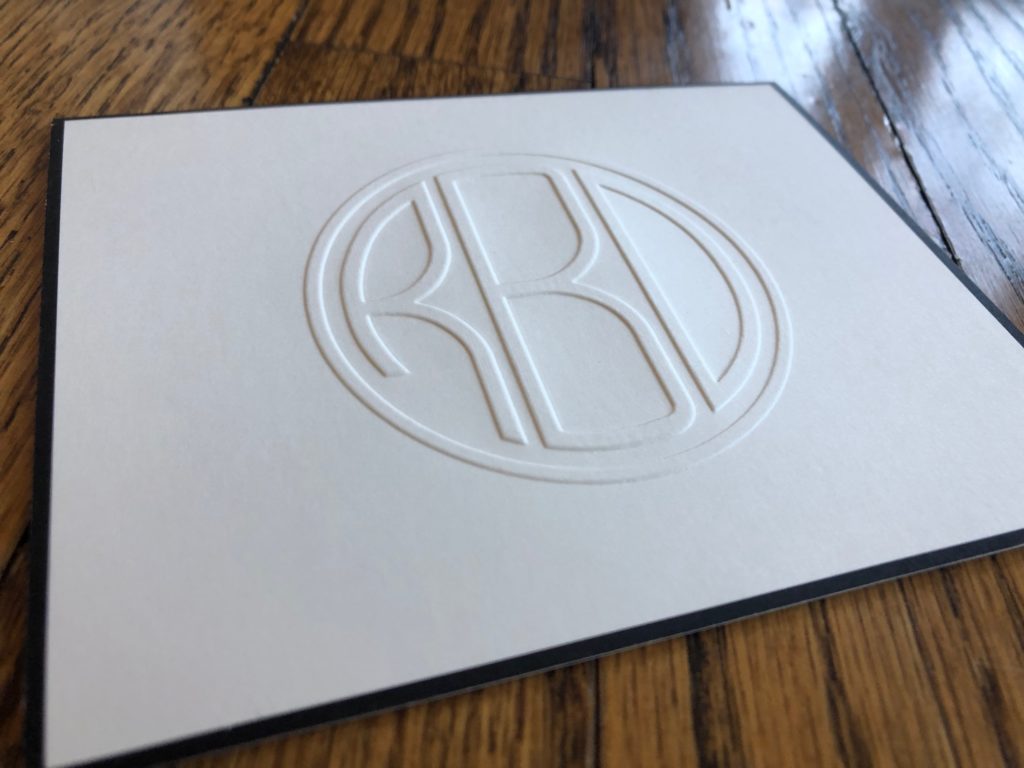 Add an Envelope Lining
Dress up your envelopes with luxury paper hand-inserted on the inside of the envelopes. Black, gold foil, silver foil or opal foil are perfect choices, depending on your stationery paper and ink color.
Choose opal foil or black linings for an all-embossed design on ivory paper.
If you use gold, black or silver raised-ink, choose the matching envelope lining for a polished effect.
Ditch the stickers
There's no use going to the trouble of getting dressed up if you ruin it all by wearing sneakers. Same with the outside of your stationery envelope. Rather than messing with stickers or ink stamps, choose the printed return address option. Return address adds to the cost, but it's worth it for the polish factor.
Consider Silver Leaf
EG offers a Silver Leaf Collection line of folded notes. This line includes high-end designs, such as gold borders, deckle edges, fancy embossing and more formal lettering styles. It's worth the splurge if you lead a busy social life, work in philanthropy or just want the best of the best.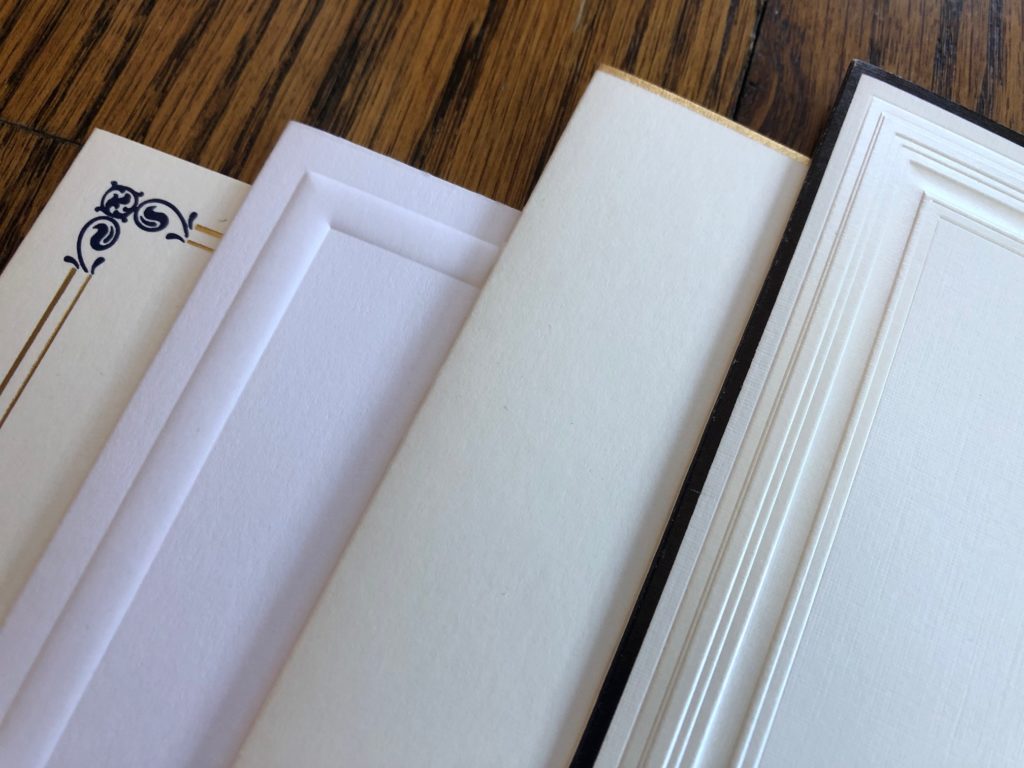 Ask for the Embossed Graphics Silver Leaf Invitation Album
To truly turn up the heat on luxury stationery, ask to see our Silver Leaf Invitation Album at your local gift store, stationery shop or wedding planner. You can peruse dozens of folded notes with an expanded menu of lettering styles, linings and paper edges. It's a sensory extravaganza, and one that offers nearly limitless options.
Want to see our collection of personalized stationery? Find our flat cards here, and our folded notes here. We also have selections of gift enclosures and letter sheets and wardrobe sets.
And remember to buy local! Use our store locator to find and visit your nearest Embossed Graphics retailer. Please buy local to keep people employed and pay local taxes. Your purchase of Embossed Graphics stationery not only enriches your lifestyle, it enriches your community.