Just like a fast, lightweight laptop or a good suit, stationery is an essential business tool. Especially if you own your own business, good stationery can make or break your sales, marketing and branding efforts.
Professionally printed stationery helps your employees (including you!) feel like they are part of something important. Stationery also can help your clients feel confident of their investment in you.
Stationery printed with your logo helps to establish your branding — your logo, color scheme and tagline — with your prospective customers. Leaving them with a beautiful business card or following up with a professional thank you note can make or break a deal.
You'll want an affordable solution, but not a cheap one. Look for a stationery company that provides good value for the price. Don't scrimp on paper; a high quality paper stock is the basic building block. The printing should be clean with no blurry shadows. Colors should be crisp and clear.
What kinds of stationery should you invest in? Here is a checklist of key stationery pieces, along with what to look for.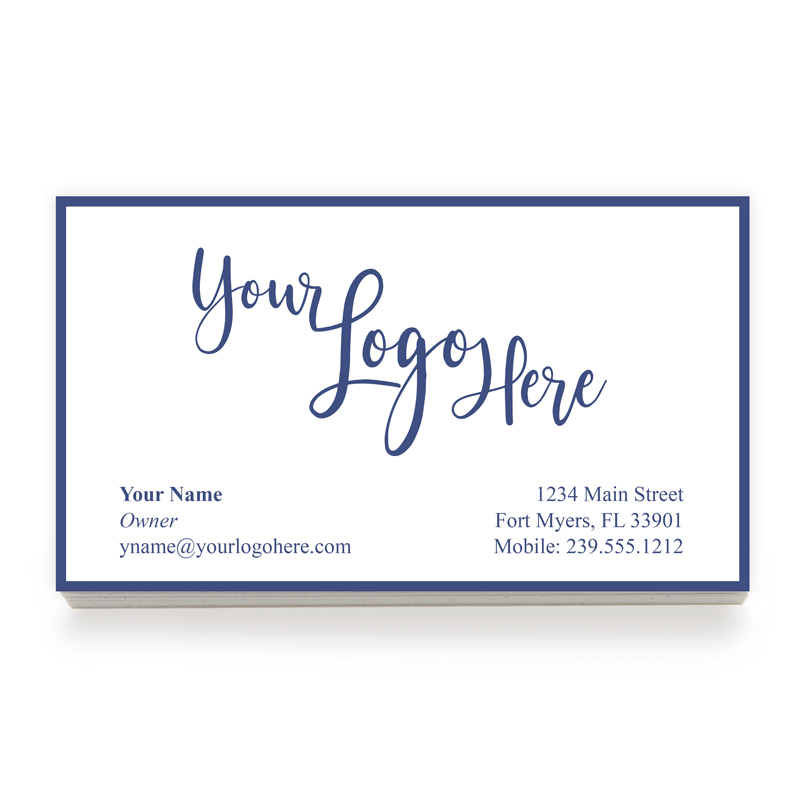 Business Cards
You want a business card that makes a lasting impression. Whether you are attending a networking session or visiting a potential client, a business card is the perfect leave-behind. Start with thick paper…aim for 18 point thick. White paper will allow your logo to pop.
Your logo should be centered at in the top half of the card. On the bottom half, add your your name, title, email address, phone number and business website address. A physical address can be a good addition, but it's not imperative. You can leave the back blank for a brief note–they can double as gift enclosures.
Try the Your Logo Business Card featuring EG's raised ink. Want more flexibility? Try the Your Logo Custom Business Card, which features digital (flat) printing. Don't have a logo yet? Try the eye-catching Charleston Business Card using your name and contact information in one of 9 digital ink colors.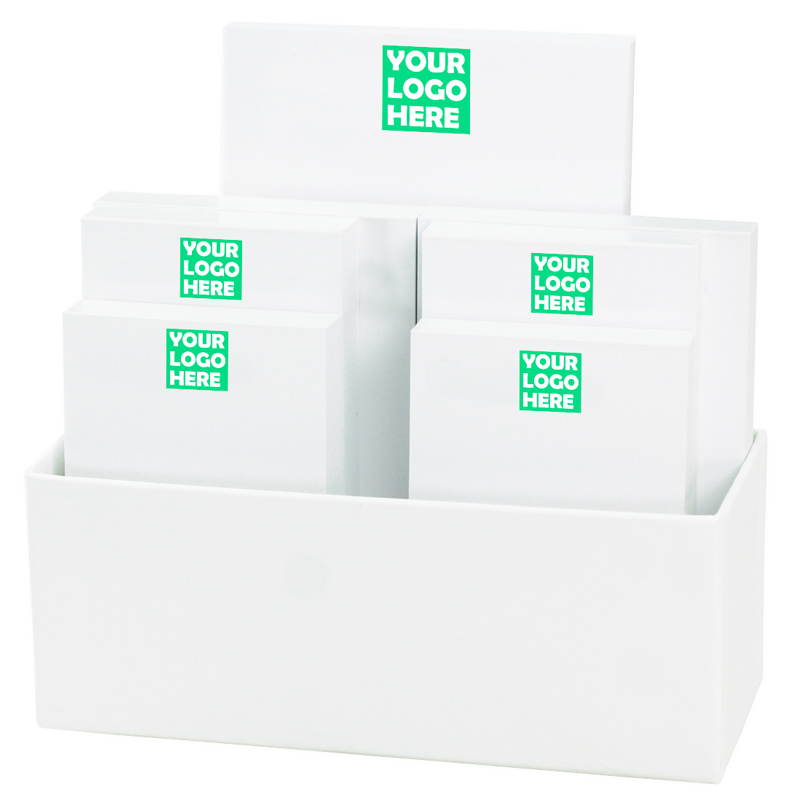 Custom Notepads
Notepads are another affordable stationery product that provides a lot of mileage for your logo. A branded notepad can look great on a front credenza. Individual sheets — memos, lists, agendas or tablets — are perfect for presenting a written quote or to attach to small gifts. Try the Your Logo 7 Tablet Set.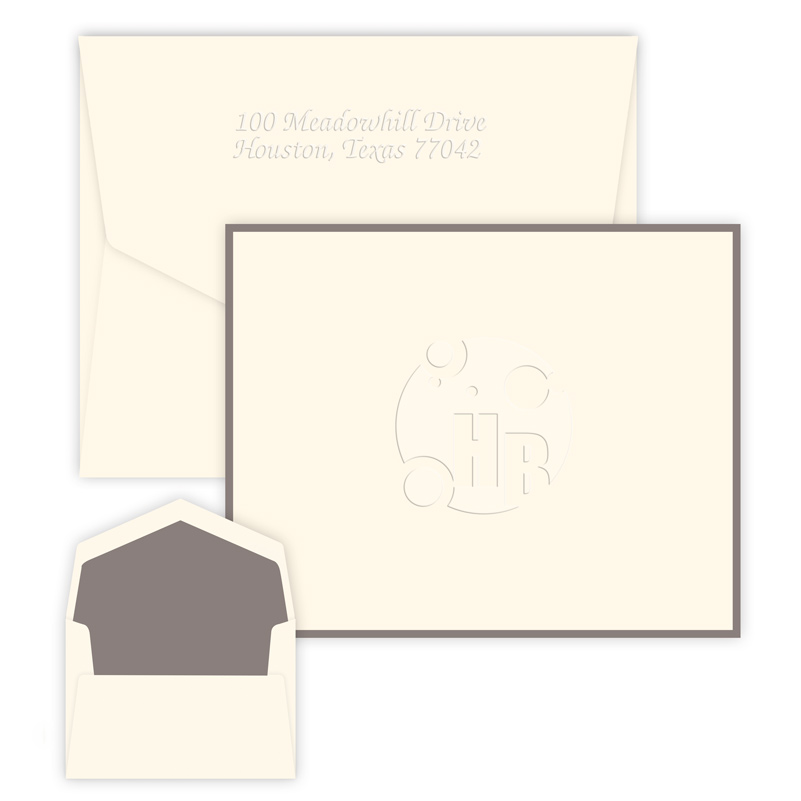 Thank You Notes
A thank you note is one of the most important social tools. It follows that your business should have custom thank you notes with your logo. This is probably the largest stationery investment you'll make, but it's well worth the money. The thank you note is your stationery workhorse. You'll be sending them to current clients, prospective clients, vendors, employees and others. Try an embossed version such as the Your Logo Note.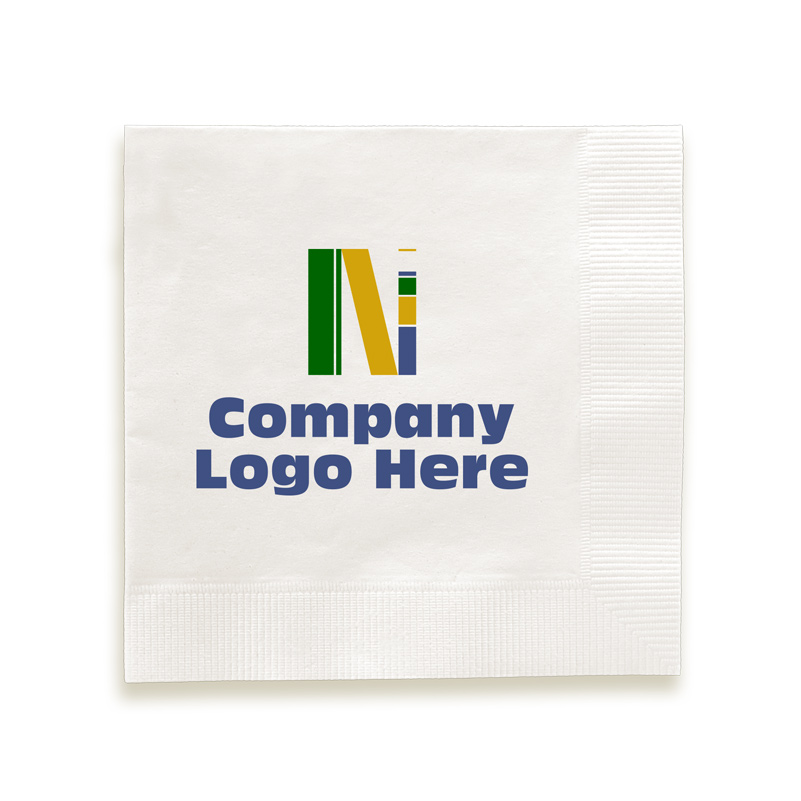 Business Napkins
If you are hosting an event with beverages or snacks, branded cocktail napkins are the perfect investment. Offering food and drink builds good will — whether at a business trade show booth, a cocktail party at a private room at a local restaurant, or a table at a community event. Fan a pile of napkins printed with your logo alongside the refreshments. It's the perfect way to build awareness and expose new people to your company. Try the Custom Napkin, which features full color printing.
Want to look at our full line of custom/logo business stationery? See them here.
Please buy local! Use our store locator to find and visit your nearest Embossed Graphics retailer. Shopping small keeps people employed and contributes to local taxes. Your purchase of Embossed Graphics stationery not only enriches your lifestyle, it enriches your community.